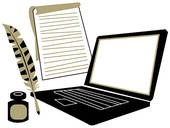 We Practise Safe Genealogy
We do not simply take what is to be found on other family history websites and incorporate the details into ours as we know that it is through such methods that errors are replicated.
We seek to verify as many facts as we can, checking and double checking. However, we are covering many people and five hundred years of history so it is possible that an error may emerge in our work.
If you spot something with which you disagree or would like to question, please do not hesitate to contact us via the Contact page.
Sources
As with all English family history:
Primary Sources:
the civil registration records for births, marriages and deaths (which began in July 1837),
the censuses which were taken every ten years from 1841 onwards (with the most recent one available to the public being 1911),
and the parish registers for Kent and elsewhere, containing baptisms, marriages and burials from the mid 1500s.
Secondary sources include:
Wills and testaments,
the British Newspaper Archive, trade directories, military records,
crimes, prisons, punishment records and convict transportation lists,
national, county and organisation archives and libraries,
passenger immigration and emigration shipping lists.
Additional source:
We find many surprising and interesting nuggets through internet searches.